Teachers
If you are a teacher in southern Arizona and would like to work on a joint lesson plan, please contact me.  I am willing to travel beyond just the Tucson area.  If possible, I'd like to incorporate astronomical activities and concepts with the existing curricula.  I could also give a talk about my research, astronomy, science, college….  I want to be flexible and do what works best with your school/classroom.  My email address is [email protected]

Teen Astronomy Cafe
The Teen Astronomy Cafe program is organized by the National Optical Astronomy Observatory.  High school students come in on a Saturday to learn astronomy and work through introductory coding exercises.  I help students work through these exercises and answer any questions they may have about astronomy, college, coding, etc.
Project ASTRO
https://www.noao.edu/education/astro_about.html
Project ASTRO is a program that connects and trains teachers and astronomers to bring hands-on science education into the classroom.
Astronomy Camp
Astronomy Camp is a week-long science camp in Arizona primarily for high school students.  We use hands-on learning activities to help students understand the world around them.  Students also have the opportunity to observe through research-grade telescopes on the mountains surrounding Tucson.  I will work with the beginning camp this summer.
Mt Lemmon Sky School
https://skyschool.arizona.edu/
The Mt Lemmon Sky School has programs for school groups of all ages.  Students spend the day(s) doing inquiry-based science experiments on the sky island environment of the Catalina Mountains.  At night, there are observing sessions.
I have assisted with evening activities/talks and night observing sessions at the Mt Lemmon Sky School.  For two years, I mentored a high school student through a science fair project for SARSEF (Southern Arizona Research, Science, and Engineering Foundation).
Physics Discovery Program
https://flandrau.org/programs/discovery-programs/physics
I led hands-on physics workshops for K-12 students at Flandreau Planetarium and exhibited at Science City.
Additional Experience
I have led night observing and solar observing sessions, and have given talks at local elementary schools and retirement communities.  I have also mentored students through the Tucson Women in Astronomy Mentoring Program.

As an undergraduate at the University of Illinois, I was part of and co-coordinated Physics Van (pictured above, https://van.physics.illinois.edu/).  With Physics Van, I traveled to elementary schools in central Illinois to perform exciting physics demonstrations mean to teach basic physics and show kids that physics is fun.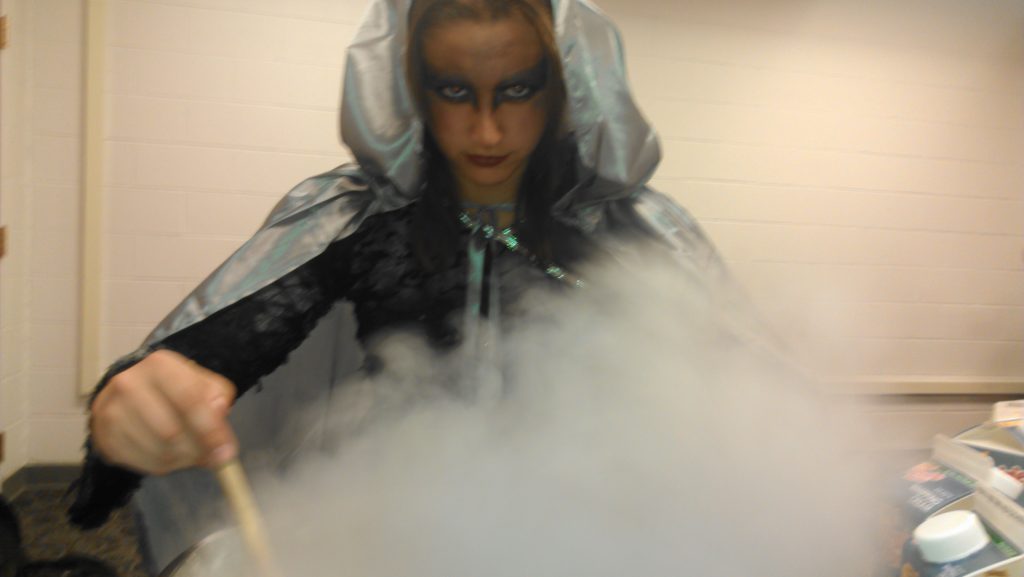 Liquid nitrogen ice cream at a physics conference
Halloween weekend
Urbana, IL 2014